SpiderTech and Kinesiology Taping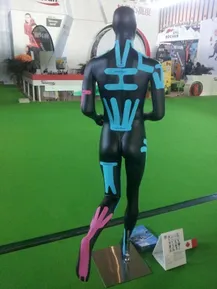 You see it everywhere from professional sports teams, Olympic athletes, golf and tennis players, to your everyday weekend warriors. All sporting crazy colored tape in oddly arranged patterns. What is this all about – is it fashion or function??? Although it could be considered both, it is very much functional and totally in alignment for health and fitness professionals.
Elastic kinesiology taping is a therapeutic procedure using specialized tape whose properties are similar to human skin. The tape itself is of similar thickness and weight of skin, it stretches only along the longitudinal access as does the skin & it's total elasticity is 40-60% of its resting length, also just like the skin. The effect of this tape is based on its ability to interact with the skin and its intimately related vascular, neurosensory and mechanoreceptors. The tape and the associated taping methods are completely different from traditional athletic taping that uses non-elastic tape that will compress tissue and limit range of motion. Its design characteristics and associated application techniques cause a "lifting" of the skin that results in decompression of the tissue and thereby increases circulation and decreases lymphatic congestion. This lifting principle that causes decompression has an associated influence on the underlying pain receptors and as a result also decreases pain.
Here are the benefits in a nutshell:
Increasing oxygen and circulation to the area results in;
Decreased swelling, inflammation and associated pain

Facilitates healing

Decreases recovery time
Increases blood & lymph flow which decreases the build up of toxins & metabolism by-product build-up to help muscles and joints work more efficiently
Supports joints, tendons & ligaments

Assists joint & muscle movement while still encouraging full range of motion

Decreases muscle spasm & help strengthen weak muscles

Increases athletic potential
Kinesiology tape covers a broad range of uses. We know that keeping muscles moving and improving circulation will reduce pain and speed up healing. Taping acts as a form of support without compromising range of motion while biomechanically allowing the body to heal itself. The objective for taping can be either therapeutic –to aid healing of an existing condition or prevent further injury, or athletic training - to assist muscles in work by increasing blood flow and oxygen, thereby increasing the working capacity of muscles.
The method of application is critical to its success. Each application goal whether it be to reduce swelling, relax a tight muscle, strengthen a weak muscle, mechanically support a joint or to maximize performance is accomplished by using the tape in a different manner.
For further details and interest please view the following links:
http://www.spidertech.com/video-how-it-works ; http://vimeo.com/32815174
Dr. Joanne has been a Doctor of Chiropractic for almost 20 year. She is passionate about transforming people in body, mind and spirit to help them become their unique best. Her advanced professional training, along with her personal background as a former professional figure skater and former avid fitness instructor, form her extensive base of knowledge. She is readily available for nutritional counseling, exercise education, as well as chiropractic support.